Comparing two models of BMW X5 and Audi Q7, there is no difference in luxury SUV segment
---
The newly launched BMW X5 and Audi Q7 SUVs in Vietnam make the luxury market become more exciting and have more choices for customers.
Audi Vietnam has launched the facelifted Q7 2020 with many powerful upgrades in design accompanied with many modern equipment. In Vietnam, the Audi Q7 55 TFSI will compete directly with many competitors in the luxury 7-seat mid-size SUV segment such as Lexus RX-L, Volvo XC90, BMW X5 or Mercedes-Benz GLE. Let's take a quick comparison between Audi Q7 55 TFSI 2020 and BMW X5 xDrive40i.
The all-new fourth-generation BMW X5 2019 (G05) was born to compete directly with rivals in the mid-size 7-seater luxury SUV segment. In Vietnam, the BMW X5 2020 is distributed in a total of 2 versions of xDrive40i including xLine and xLine Plus with prices from 4.1 to 4.69 billion dong.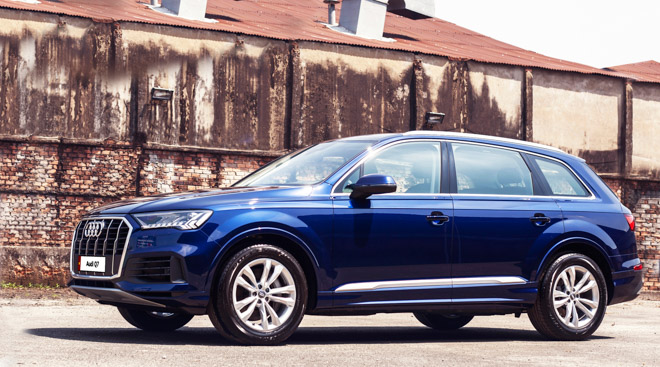 The BMW X5 2020 is equipped with adaptive LED headlights and Laser technology lights on the xLine Plus version in Vietnam. The BMW X5 sports a more sporty appearance with a more angular design with symmetrical air vents and the brand's distinctive kidney-shaped grille with large chrome-plated bezels and borders. Similar to the headlights, the taillights have also been redesigned. The overall vehicle is healthier and more dynamic with wheels from 19 to 20 inches in size.
In the new facelifted upgraded version, the Audi Q7 has been redesigned according to Audi's latest design language. Sharp lines and sporty cut-out sections. An impressive octagonal grille design with six vertical chrome bars. The air slots on the two side air vents are also more eye-catching design.
In Vietnam, the Audi Q7 2020 is distributed only 55 TFSI version, besides customers can choose the S-Line upgrade package if desired.
BMW X5 xDrive40i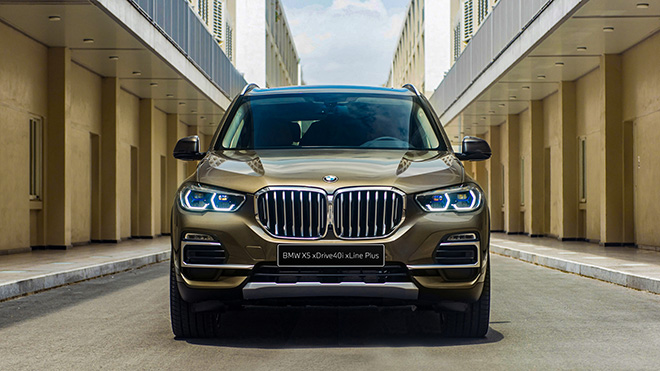 In Vietnam, Thaco BMW has brought only X5 xDrive40i version including xLine and xLine Plus using a 3.0-liter inline 6-cylinder engine (I6) with a twin-port turbocharger (TwinScroll turbocharger) technology BMW TwinPower Turbo. The engine produces a maximum capacity of 340 horsepower at 5,500 - 6,500 rpm and maximum torque: 450Nm is available at the rev range of 1,500 - 5,200 rpm. Thus, the SUV is capable of accelerating from 0 to 100 km / h 5.5 seconds, before reaching a maximum speed: 243 km / h.
All versions use an 8-speed Steptronic automatic transmission and 4-wheel drive system xDrive with rear differential lock. BMW says the X5 xDrive40i has an average fuel consumption: 8.5 liters / 100km.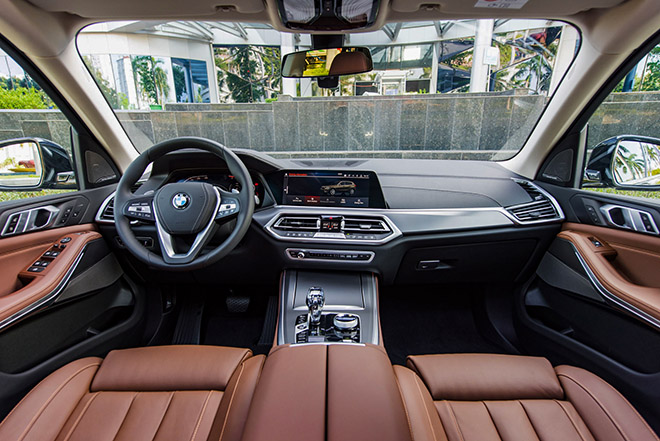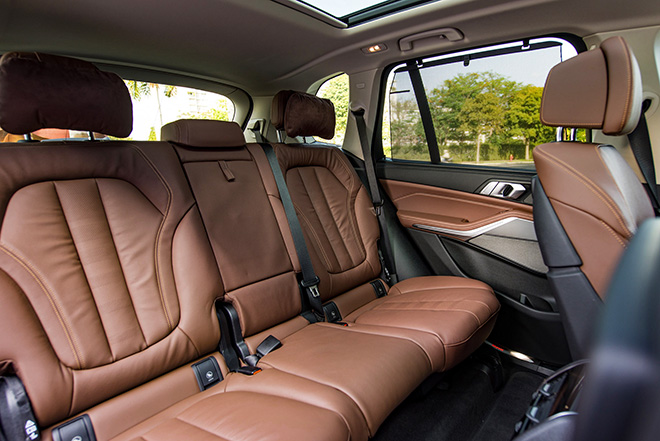 The BMW X5 is equipped with the BMW Live Cockpit Professional digital cockpit standard, which combines the design of the display and control system with the user interface, creating an extremely interactive space. good. The electronic dashboard, color screen behind the steering wheel with a size of 12.3 inches, and a 12.3-inch central entertainment screen with touch features, are the highlights of the BMW X5.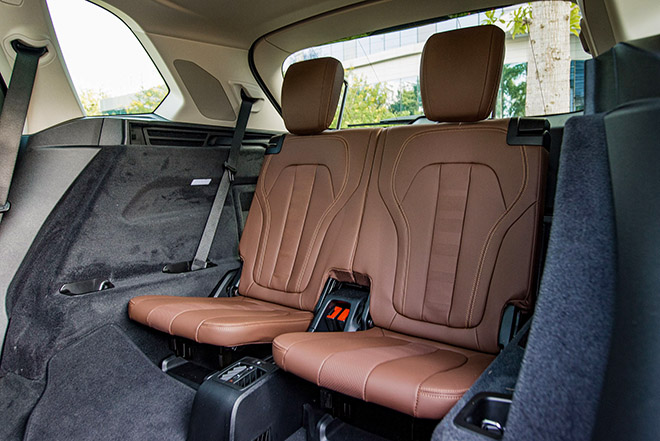 The driver can optionally choose the communication method depending on his situation through the touch screen feature on the center screen, iDrive control cluster, function keys on the steering wheel, voice control. speak, or even through gesture control - BMW Gesture Control.
Audi Q7 55 TFSI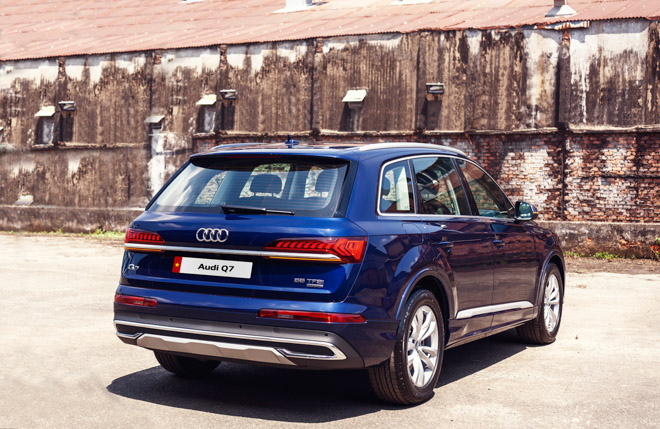 Audi Q7 version 55 TFSI uses a 3.0 liter turbocharged V6 petrol engine, producing a maximum capacity of 340 horsepower from 5,000 to 6,400 rpm and maximum torque of 500 Nm in the range of 1,370 - 4,500 rpm. The Audi Q7 uses a mild-hybrid (MHEV) system using a 48-volt source.
Power is transmitted to all four wheels (AWD; Quattro technology) via an 8-speed Tiptronic automatic transmission. Audi Q7 comes with 7 different driving modes including: Efficiency (effective), Comfort (comfortable), Auto (automatic), Dynamic (flexible), Individual (individual), Allroad (all terrain) and Offroad (terrain).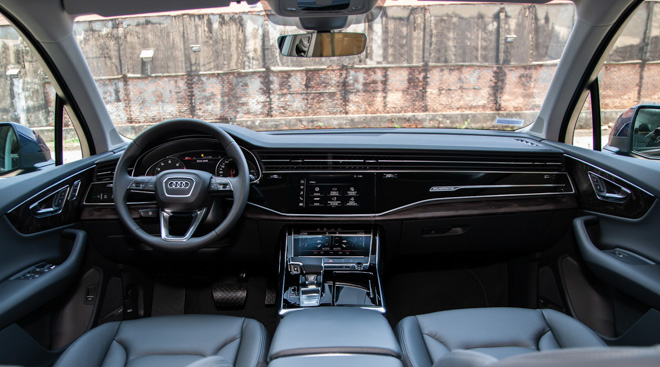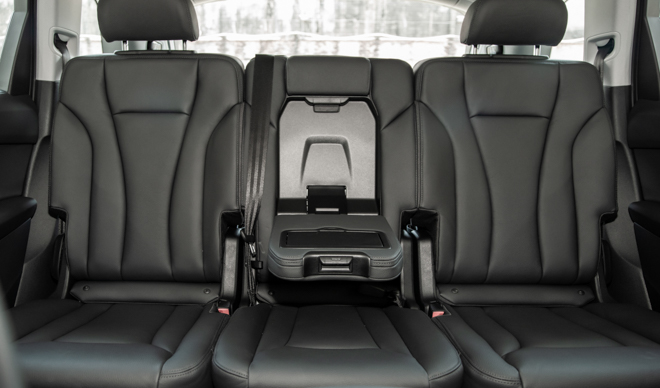 Audi Q7 55 TFSI in Vietnam belongs to the Standard version, so it is not equipped with Audi Virtual Cockpit driver assistance screen, but instead uses the traditional analog type. Meanwhile, the central touch screen has a size of 7 inch integrated MMI entertainment system (Multimedia Interface). When turning off the central touch screen seems invisible on the front dashboard surface by seamless black with the overall. Overall, the facelifted Q7's dashboard looks significantly more modern than the previous version.
General assessment:
When wishing to buy a car in the mid-size 7-seater SUV segment in Vietnam, the majority of buyers often choose the Lexus brand with the RX-L, or Mercedes-Benz with the GLE line. Not as "generic" as Mercedes-Benz and Lexus, customers of BMW and Audi brands are very different, when they promote the criteria of operation and driving feeling more.
2020 Audi Q7 55 TFSI and BMW X5 xDrive40i are two interesting models. Depending on the tastes and preferences, the buyer will find a suitable model.While the BMW X5 xDrive40i scored in a unique, muscular design and equipped with many outstanding exterior and interior options than the Audi Q7. In the BMW X5, it comes with many standard equipment for the BMW Live Cockpit Professional driver & entertainment screen system, LaserLight headlights, sunroof, crystal shift lever, ... If compared to internal equipment exterior, the X5 outperforms the rival Q7.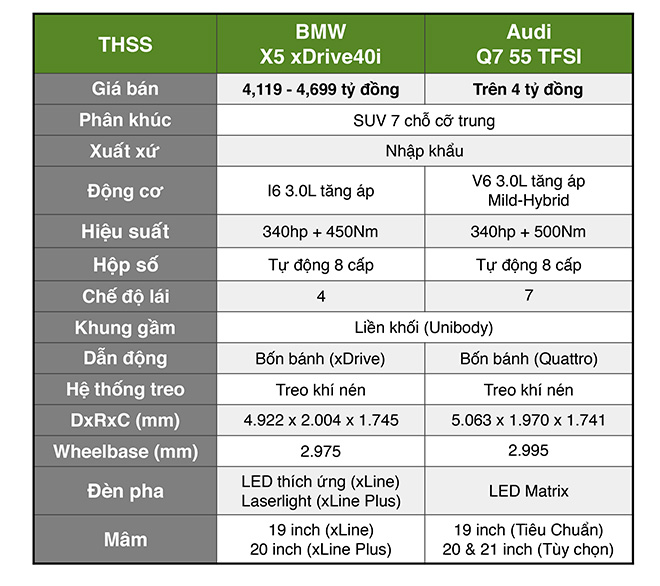 In terms of operation, the X5 is not as modern as the Q7, has no mild-hybrid engine technology, lower torque generation engine, and BMW's xDrive four-wheel drive system is also not appreciated. like Audi's Quattro drivetrain.
2020 Audi Q7 55 TFSI scores in a luxurious, youthful design. The Quattro drivetrain is highly rated for its operability, as well as providing the most diverse driving modes in the segment. However, the Q7 Standard version has more modest equipment if placed next to rival BMW X5 xDrive40i. In Vietnam, if you set more options, the price of the Q7 55 TFSI 2020 will certainly be higher than the price of the BMW X5 xDrive40i xLine Plus, which is priced at 4.6 billion VND.