MV Agusta Brutale 1000 RR: Beautiful naked bike model is spotless
---
Equipped with a 208 horsepower engine, making the MV Agusta Brutale 1000 RR one of the most powerful naked bikes on the street.
MV Agusta has closed in 2019 with the launch of the 2020 Brutale 1000RR model - its flagship product based on the limited edition Brutale 1000 Serie Oro that was released a few months ago.
The new MV Agusta Brutale 1000 RR is, in essence, a mass production version of the Serie Oro, although it doesn't have some super-expensive components like carbon fiber wheels. However, the car is absolutely stunning from every angle.
MV Agusta Brutale 1000 RR
The front of the motorcycle has full-LED headlights. Oval headlights, large fuel tank and small tail, with integrated LED lights, all look very prominent. As a mass-produced motorcycle, the Brutale 1000RR gets steel bolts - not titanium like on the Serie Oro. The car is also forged aluminum wheels instead of the carbon fiber units that its expensive sibling uses.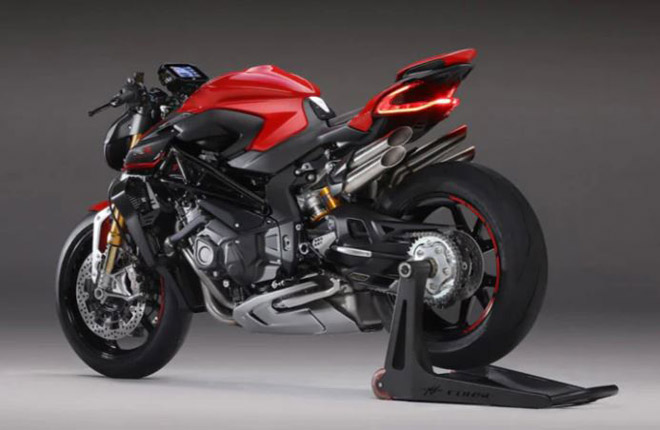 Pair of exhaust pipe tucked neatly
While the Brutale 1000 Serie Oro produces a staggering 211 horsepower, the same engine in the RR makes the power a bit lower. With a capacity of 208 horsepower, the capacity of this car is identical to the engine of the new Ducati Streetfighter V4. MV Agusta has also tweaked the internal parts of the engine, adding new camshafts. In addition, the new crankshaft is designed to reduce vibration at low revs. Feeding system of the new engine, with uneven length pipes to optimize engine efficiency. MV Agusta claims that the Brutale 1000RR will sprint at a maximum speed of 300 km / h.
The car is beautiful from every angle of view
The updated Brutale 1000RR is equipped with an in-line four-cylinder DOHC engine, liquid-cooled, 16 valves, producing a maximum power of about 208 hp at 13,000 rpm and a maximum torque of 116 , 5 Nm at 11,000 rpm. The engine is mated to a six-speed gearbox, and comes with support for quick gear changes.
The same chassis size as the Serie Oro, the Brutale 1000RR also has electronically adjustable suspension and damping. The Brembo Stylema brakes have also been moved from the Brutale special edition. The 2020 MV Agusta Brutale 1000 RR version is available in two colors, red or gray.
The new MV Agusta Brutale 1000 RR is essentially a mass production version of Serie Oro