New solar cell performance double
---
Helmholtz-Zentrum Berlin Research Institute (HZB) develops Tadem thin-film photovoltaic cells for energy conversion rates of up to 24.16%.
The new battery combines two CIGS and perovskite semiconductors to convert different components of the light spectrum into electrical energy. While metal halide perovskites focus on visible light, CIGS compounds - including copper, indium, gallium and selenium - are capable of converting part of the infrared light that the naked eye cannot see.
CIGS cells can deposit in the form of thin films about 3-4 micrometres (µm). The perovskite layers are even thinner with a thickness of only 0.5 µm. Tadem parallel solar cells thus have a thickness of less than 5 µm, allowing the production of flexible power modules.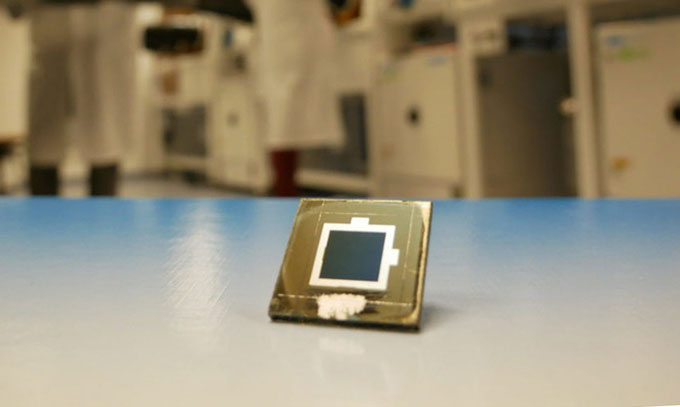 Parallel solar cell CIGS - perovskite. (Photo: HZB).
"This combination also gives light weight and radiation protection, can be applied in the space satellite industry," Professor Dr. Steve Albrecht from HZB, lead researcher, said in JOULE magazine. .
Albrecht and his colleagues directly deposited perovskite onto the CIGS class using a technique developed by the group. They add special molecules, called SAMs, to CIGS semiconductors to form a self-organizing monolayer, which improves the contact between perovskite and CIGS.
New parallel photovoltaic cells for energy conversion efficiency of up to 24.16%, much higher than the commercial energy batteries available on the market, ranging from 5 - 15%. This value has been certified by the Fraunhofer Institute for Solar Energy Systems (ISE) in Germany.