Robot composes poetry that confuses readers
---
To date, this machine has adapted more than twelve books. Finished products make the readers a little confused because they are often quite funny and sometimes poetic.
The latest books from Dr. Karen ann Donnachie and Dr. Andy Simionato from RMIT University (Australia) carry the warning text: "Attention! This book is not designed by humans. "
In fact, the originals of these books were written by humans, but the new version includes Haiku's poetry and images that are "strange" and "unique" created by artificial intelligence (AI).
The two readers' reading machines use computer vision and optical character recognition to "read" books. The machine then uses machine learning and natural language processing technology to select a combination of poetic words from the book page and turn them into a Haiku poem, and erase all the remaining words. Next, the machine will search for illustrations on Google that match the verse and send the content to an online printer. The writing process is complete!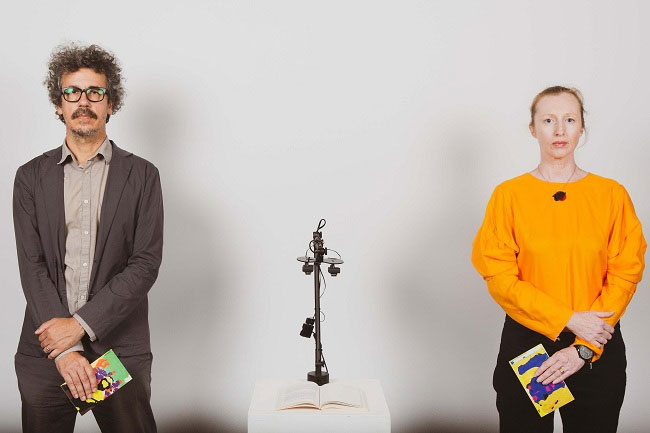 The two PhD authors of this unique robot product.
To date, this reading machine has adapted more than twelve books, including Margaret Atwood's Woman Story and Truman Capote's Breakfast at Tiffany's. Finished products make the readers a little confused because they are often quite funny and sometimes poetic.
Dr. Simionato, shared that his team "tried different versions of each book and came up with different results each time. Each algorithm will solve a new, combinative puzzle that's always there but we never realized it. "
The project comes from a desire to encourage people to discuss poetry in the age of AI and was recently on display at the Melbourne Art Book Exhibition in Australia.
Dr Donnachie, said: "This is our attempt to hold on to the future of books, which have been around us for a long time and played a central role in many cultures, but are changing too fast. ".
"Now the way in which words are created and received, as well as culture in general, has been profoundly changed due to abbreviations, memes (cultural symbols or some ideas that have spread on internet) and emoji icons on social networks, and AI is changing us every day for summarizing a great deal of text every day. So, what will the process of writing poetry be like in that context? "
Dr. Dang Pham Thien Duy, Lecturer of Information Technology at RMIT University Vietnam, realized that more and more content was created by AI and applications could develop from there.
"If a picture is created by an AI, who will copyright the painting? Is it that AI, the developer of the AI ​​algorithm or the algorithm user? What will happen to the press when robots can write news as expertly as human journalists? How to increase the confidence of readers with the news compiled by automated machines? These are questions we need to think about, "said Dr. Duy.
According to Dr. Duy, using AI to create new content and natural language processing is "interesting trends" in the field of AI and is a clear example of how AI can contribute to other industries. in addition to computer science.
However, he believes that there is still a long way to go before AI can match human intelligence.
"The fact that AI is able to read but cannot yet fully understand the text or create meaningful content is the motivation for scientists to make more efforts. It takes a lot of effort to develop AI to the level of synthetic artificial intelligence, "Dr. Duy said.