The Li-S battery helps the smartphone to work all week without charging
---
The new battery could power smartphones for five days or allow electric cars to run 1,000km on a single charge.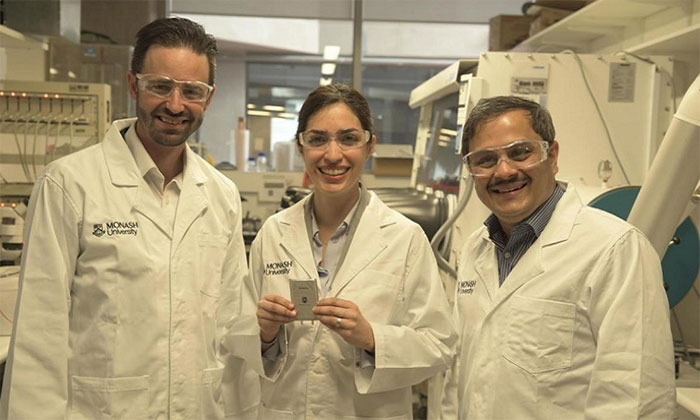 Associate Professor Matthew Hill, Dr. Mahdokht Shaibani and Professor Mainak Majumder (from left to right) are involved in the development of Li-S batteries at Monash University. (Photo: New Atlas).
Researchers at Monash University in Melbourne develop "the world's most efficient" lithium-sulfur batteries, which are four times more efficient than conventional batteries. They are seeking to commercialize this technology and enhance its benefits in the fight against climate change. They published their research today in the journal Science Advances.
The majority of commercial batteries are lithium-ion batteries, but lithium-sulfur batteries have long attracted a lot of attention thanks to their high energy density and longer power supply. However, lithium-sulfur batteries usually have a relatively short lifespan. The battery has been used on some aircraft and cars, but previous mass-production efforts have failed.
According to Faraday Institute's battery experts, the widespread use of lithium-sulfur batteries faces major obstacles from the insulating properties of sulfur and the deterioration of lithium anodes. The researchers changed the design of the sulfur cathode to increase the load capacity without reducing performance, according to Professor Mainak Majumder, who led the research.
The team has applied for a patent for a new type of battery and is planning to test more by the end of this year. "This technology not only provides high performance and longer service life, but also makes the manufacturing process simple and low-cost, significantly reducing toxic waste to the environment," said Matthew Hill, member. research team, said.