Compare the two storage management systems QNAP QES and QTS
---
When choosing an operating system for QNAP storage devices, the choice will focus on two QES vs QTS options. Each of which brings specific features and advantages to the scale. However, there are still some differences that make the final choice that should be based on the specific needs of the user or unit that purchased the product.
Effectiveness
Both QES and QTS are built to allow standard tasks to be resolved quickly, but it's important how this is achieved. With QES, the following issues play a key role:
Real time data compression
Block-level deduplication
Thin provisioning with reclaim capability
When it comes to QTS, Qcenter will eliminate the problem of logging into each previous NAS, helping to solve the necessary tasks. An employee can use a central management platform to receive visual summary charts. NAS systems can also be set up quickly, which can be considered an advantage for data centers. The fact that it can be installed on a virtual machine and managed through a firewall makes it even more meaningful.
Security issue
The proliferation of internet security vulnerabilities makes the debate about the value of QES versus QTS seem insignificant, due to the risk of data theft, including intellectual property copyright. However, QTS allows remote security, allowing any valid user to have access, but still protects against any unwanted intrusion by hackers or potential threats. Other hide.
Backup
QES is designed to take into account the possibility of a problem by its SnapSync at the block level. That means remote access can ensure that all data is quickly restored, available from the backup system. In addition, the system is equipped with dual active controllers that provide an additional layer of safety protection.
Using the smart version control mechanism, QTS backup files can be saved by specifying how many backups will be required. This can take place at the end of every hour, every day, week or month, which can help avoid data loss by selecting a version that appears just before any problem occurs. It may also be a viable solution to cycle through multiple saved versions.
Storage
Using the graphical interface, QTS allows quick overview of the dashboard to assess the issue of the storage system. Storage manager helps organize everything like disks and iSCSI storage by making the most of memory usage and making hard drive management easier. That management can be spread across multiple RAID groups.
QES also offers a flexible, easy-to-expand system when deploying storage solutions. Like QTS, it also supports not only iSCSI but also 10Gb / 40Gb Ethernet, fully supporting network connectivity. One difference is that QES provides real-time data compression.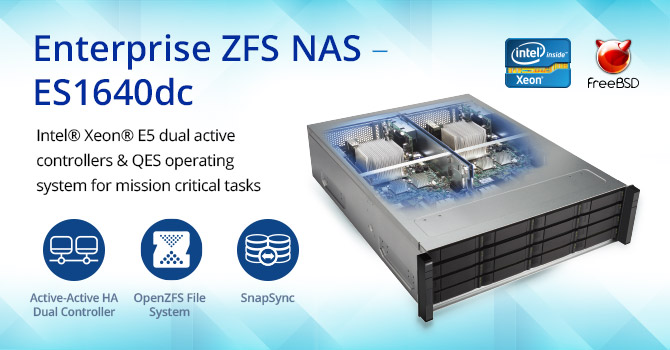 Station
Although both QTS and QES have file stations available, only QTS provides station files specific to applications, containers, or virtual machines.
QTS also allows integration and running many different applications on the system, as opposed to QES, it only supports two specific applications Qmanager and Qfile.
Problem Random Write
QES can use the cache data protection mechanism during random write operations. The processing speed in these operations can be said to be the highest in this quite competitive field. With QTS, the speed change is completely natural and constantly changing.
The evaluation and discussion between QES and QTS will continue, but each provides a better level of support, improvements and is always up to date when it comes to storage operating systems. of QNAP.
Table comparing two operating systems Enterprise ZFS NAS and QES of QNAP